Page 2 of 2
MY FAVORITE SURF BAND OF ALL TIME 6-23-04
By Corky Carroll - OC Register
One of the very best surf movies ever was Five Summer Stories. It was made by Greg MacGillivary and Jim Freeman. Greg went on to fame and fortune making IMAX films and working with the Smithsonian on film projects. I guess his most noteworthy thing was doing the movie Everest. But this isn't about Greg, I will get to him soon though because he is a great story. This is about the band that did the soundtrack to the surf movie.....It was called HONK. And to this day Honk is still my favorite band ever. It was not what you could really call a surf band though, not in the classic sense. I think of surf bands as instrumental bands with extremely treble laden electric guitars; Dick Dale being the Godfather of that genre.
HONK was a goodtime rock n roll band that had a core of great musicians, songwriters and singers. All extremely talented and the combination was just magical. And they surf.
About once a year you can catch a HONK reunion show at the Coach House in San Juan Capistrano. If you see it listed call for tickets right then or they will be gone. To this day the band has a huge local following and nobody ever wants to miss one of these shows. It is great feel good rock n roll and it's best and it is Orange County home grown.
The combo's completely original repertoire is a reflection of several strong and sonorously distinct personas. Perhaps as the sole female voice, Fitchet's organically expressive and concordant vocal contributions are particularly rewarding....The soulfully syncopated "So Much Easier" is a platform for Wood's clever arranging and breath-defying, tongue-twisting lyrics. He also turns in the equally catchy "Another Light," as well as the compelling open throttle "Hidin' Out." Another standout is Stekol's bluesy "We're on Wheels" that bops around a walkin' rhythm juxtaposed against a jaunty backbeat. Honk [1973] concludes with arguably their best-known tune, the group-composed instrumental "Pipeline Sequence." While certainly not surf music in the traditional sense, it garnered substantial airplay on a few of the hipper North American radio stations -- thanks to being prominently featured in the cinematic cult classic Five Summer Stories (1972) -- not to mention grabbing the top spot on the play list of POI in Honolulu, Hawaii. ~ Lindsay Planer, All Music Guide 2007

The Honk 1973 Clay Figures album has been released, and it sounds and looks great!!
but sorry, it is no longer available. Check back - we'll see what we can do.
preview some musical snippets
1. I Wanna Do For You
2. So Much Easier
3. Don't Let Your Goodbye Stand
4. Circles In Sand
5. Caught On A Greyhound
6. Another Light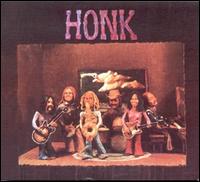 7. We're On Wheels
8. Hidin' Out
9. I Wanna Stay
10. Money Slips Through My Fingers
11. Buckeyed Jim
12. Pipeline Sequence
13. Fortune Wheel
14. Dog At Your Door
15. All My Time Is Free
16. There Is A River
17. (Love Is Like A) Heat Wave
18. Love Ain't So Common
19. Please Remember
20. No One Is Waiting